Project initiated via Kickstarter by Swiss developers Simon DaSilvac and Robin Haefelic† Weko The Mask Gatherer recently reached its fundraising goal. The title was able to reveal itself on Steam via a demo of the prologue.
The chance was then to take the temperature of this colorful little adventure game, when it is only in its third stage of development. What to get a first idea?
Sample Terms: We tested the Steam demo of Wéko The Mask Gatherer's Prologue for a little over an hour, the time to visit all the rooms on offer and go through the different tutorials.
A story about masks
Weko The Mask Gatherer, is the story of an adventurous gecko in search of the seven primordial masks. During his journey, he will meet other masks, with different properties, that will help him in this quest in the form of an action-adventure game.
The journey begins first with this prologue, consisting of a first chapter and a discovery of this universe. We could only play the demo of this prototype, which ignores the contextualization of scenarios and mainly invites us to test the waters.
In other words, we don't actually go through levels, but we go through different rooms where the gameplay mechanics can be accessed† One focuses on combat, while another emphasizes the use of masks, and another shows the presence of NPCs and habitats, including the Houshi village.
These spaces are accessible from Wéko's house, a real hub where posters scattered everywhere inform us about the operation and use of the buttons. First liftable element after a few steps, the title looks good at first glance† The nice little particles and light effects are a feast for the eyes and indicate a colorful and sleek art direction.
Gameplay side weko has two beams: one of life and one of endurance. The latter is consumed every time our hero delivers simple or powerful blows, or as soon as he sprints. It also has multiple posesallowing him to attack with two hands to deal more damage, or use a shield in his left hand and the blade in his right hand, a less aggressive but more cautious stance.
Therefore, if the vials of care allow you to recover from a battle that may have ended badly, we can count on this shield. This takes on the appearance of a mask and, as you have already understood, this is not due to chance. Almost the entire equipment revolves around the use of these sculptures, in different categories.
There are active masks, which provide the power to create or hover a teleportation point, as is the case with the beetle mask. Next one, some serve as a shield† If the base is just for protection, we also learn to use one that serves as a boomerang. Finally, relic masks give passive benefitssuch as a life bonus, or a gradual regeneration of it.
Weko in progress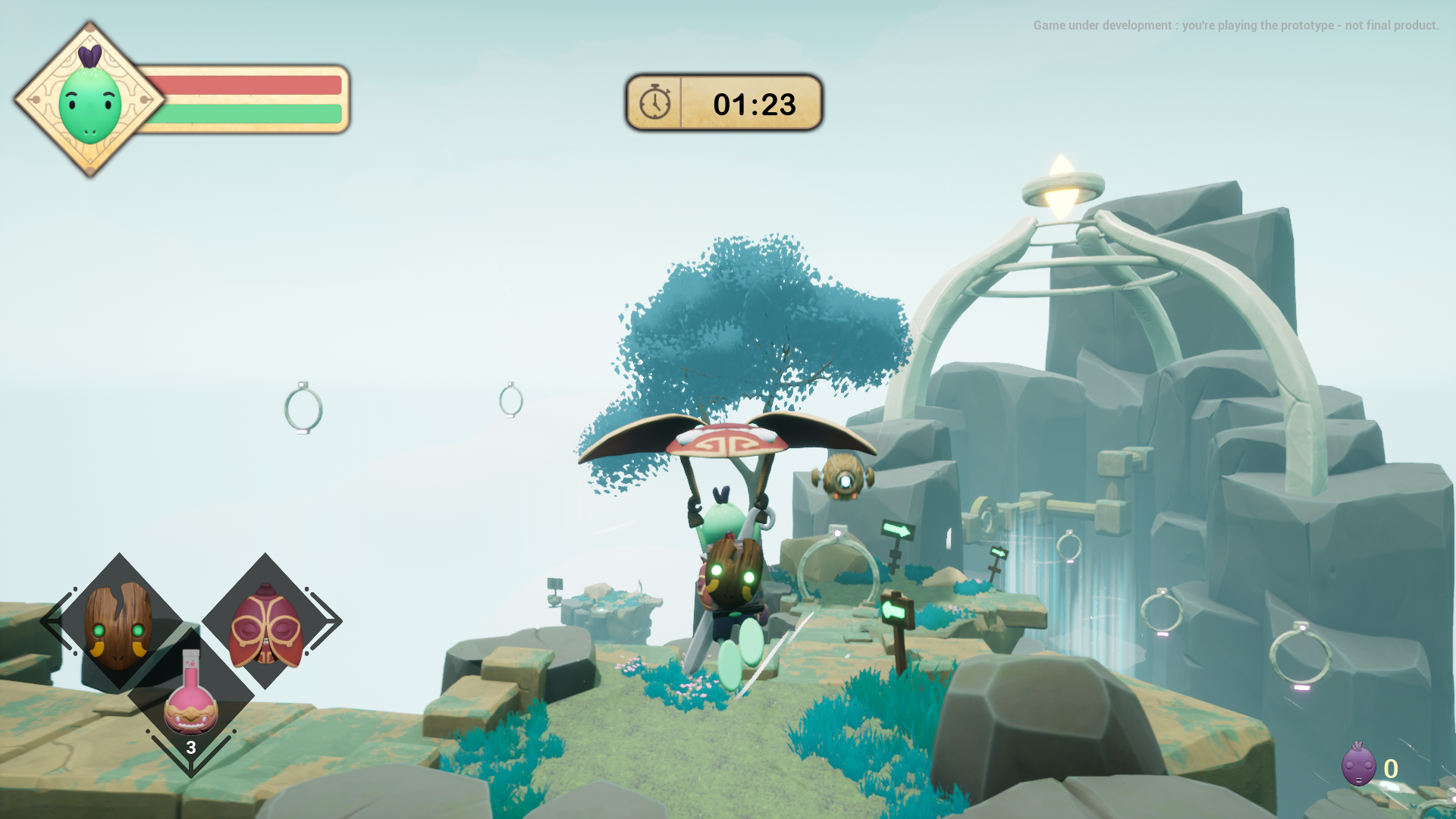 However, with these mechanics and this general sympathetic graphical bias, it's hard to rejoice in what's unfolding Weko The Mask Gatherer during the small play hour that is available. we are confronted with a collection much too disturbed by finishing problems†
The fights lack pep, the enemies do a bit of everything, especially by launching an attack when one is still far from them. The lock, which can be activated with the mouse wheel, brings the camera close to the ground and prevents us from seeing what's going on in a confrontation in the tall grass. "It's happening.
These fights also feature a rather mediocre sound design, where no sense of impact can resonate when struck. It is therefore not the most convincing aspect of the title for the time being.
The use of masks is also not better explained. We've discussed it, many possibilities seem to be articulated in the long run around what we equip for our gecko. A puzzle-focused space is entirely devoted to the use of these masks: the Kickstarter Dungeon. Unfortunately, and after four attempts, there was still a bug that hindered our progress.
Either we couldn't perform any action after using the boomerang, either we got stuck after falling from breakable platforms, or after falling into the void we had to restart a new game because the chests with the required masks were empty, nor were they in our inventory.
The problems also arise during the Pic du Dragon's "parasailing" course series, where maneuverability is approximate. Finally, other minor hiccups affect this first approach a bit more, such as walking on water instead of swimming, the absence of animation while pushing blocks or doors that do not take us to planned places.
However, it is necessary to remember that Weko The Mask Gatherer is a small, community-funded, two-person project, and it's just a demo of a prologue. In other words, this very minor plot, perfect as it is, in no way corresponds to the future final version of the title and where the developers want to go.
Especially since, if we go by the development roadmap, the full game's release is set between Q3 and Q4 2023. By then we hope that the two Swiss friends have been able to solidify and expand their creation, as it rests on bases destined to attract us.