During our last AG French Direct, sclash has split a new trailer showcasing its atypical system, presenting itself as a fighting game where every blow is deadly. To find out a little more about this project, which also stands out for its unique artistic direction, we were able to talk to Bastien Bernanddescribing his role in the game.
Origin of the project and relationship with Abiding Bridge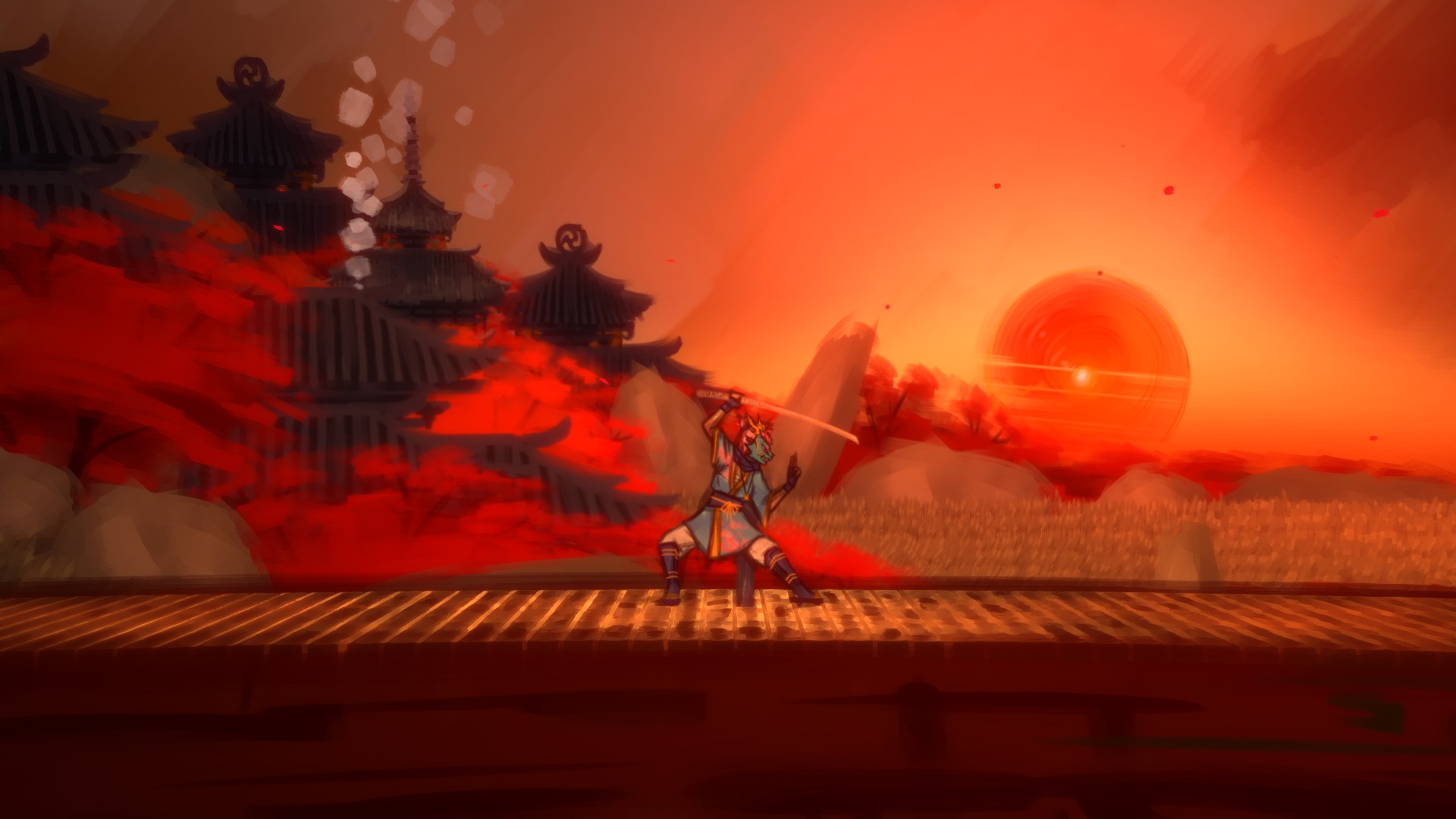 First of all, thank you for accepting our interview! Can you introduce yourself and tell us about your duties within the studio?
We are excited to do this interview as part of the AGFD. I'm Bastien Bernand, and I'm working with two other people on sclash† We have been working on this game for 3 years, basically a student project. The smallness of our team makes us very versatile.
For my part, I mainly take care of art, animation and sets, but also integration, development and communication. My teammate, Héloïse, takes care of the concept arts, the characters and the narration. Victor, for his part, takes care of the development and artificial intelligence.
you called it, sclash is primarily a student project; can you tell us more?
Indeed, this is often the case for game design school students. On our part, it was a real wish, born during our second year of study. After several prototypes and demos, we finally wanted to make a complete game. The idea was quite simple: a fighting game where you kill yourself in one go. We wanted to know what such a game might look like.
We thought we'd release it on Steam pretty soon, and we ended up working on it through our third year of college, and beyond, as the marketing aspect turned out to be a lot more complex than we imagined. that strictly speaking we are not a studio, but a collective of author-artists.
In this regard, can you describe the business model you are maintaining with Abiding Bridge?
We have a partnership with Abiding Bridge. It's an independent video game publisher that allows author-artists to bring a game to market without having to create a studio themselves – which takes a lot of time, money and a lot of effort."
Abiding Bridge works and rewards us in the same way as a music label, with a certain percentage, and above all offers support in the search for partners by giving sound advice. As we are beginners in the field, this partnership allows us to be well surrounded and benefit from the mutual aid community that exists around Abiding Bridge. The publishing house allows us to connect with the entire industry while remaining free in the creative and decision-making aspect that surrounds the game.
Have you thought about setting up crowdfunding as a Kickstarter?
Yes, of course, it was even the basic idea, except that developing a Kickstarter represents a monster job, time we couldn't have spent developing the game.
It would take a huge communication effort and have a great community, which we didn't have at the time. That's why we preferred to go to Abiding Bridge.
A fighting game where the first touchdown loses the game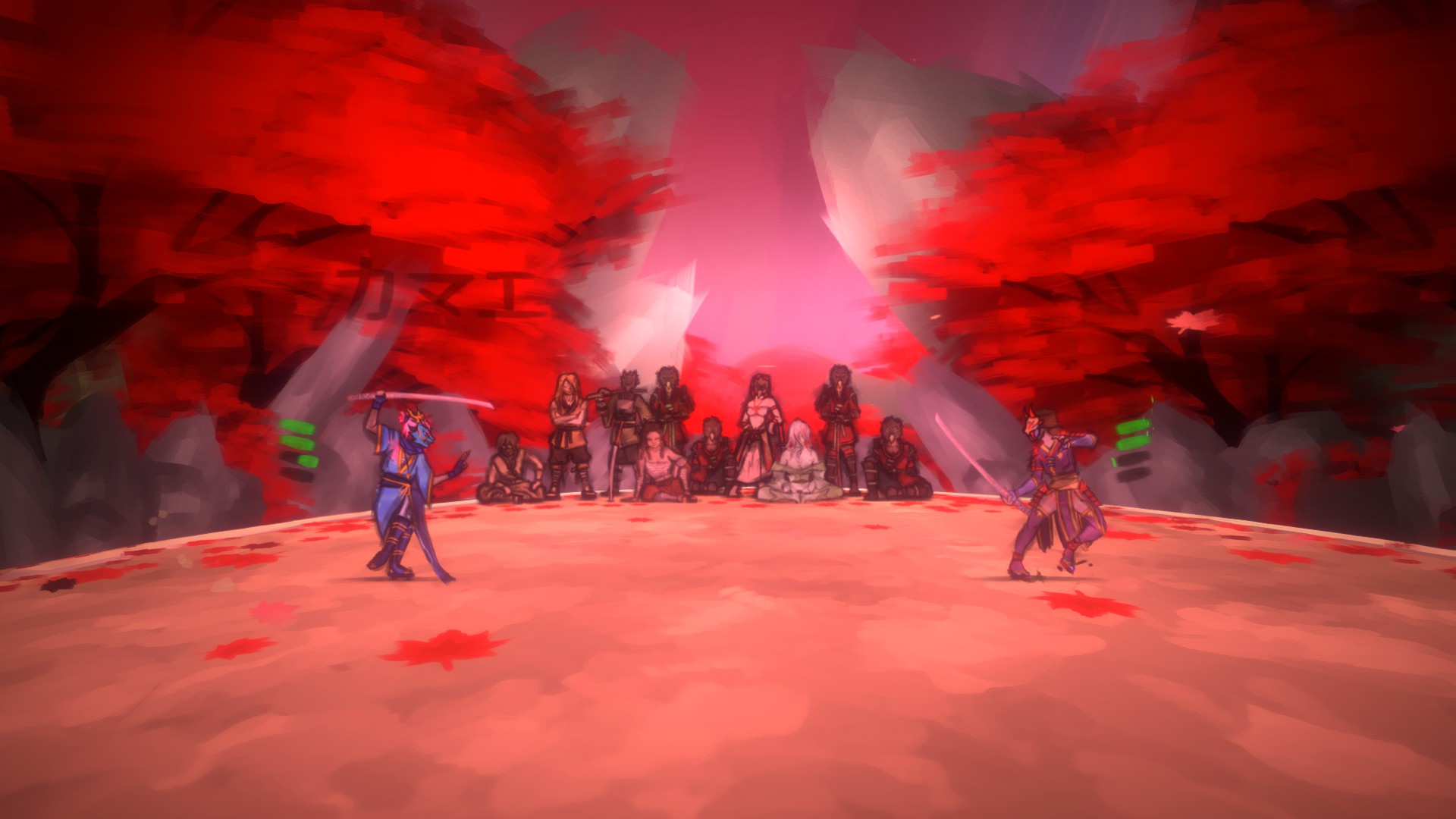 Now that we have fully understood how you work, what if you introduce us? sclash †
Sclash is an exciting, one-shot, 2D samurai fighting game. This is the sentence that sums up the essence of the game.
The graphic universe hits the ghosts as soon as you face the game. What were your main sources of inspiration for the artistic direction of sclash †
As the development of the game progressed, we simply put together the animations without having a common thread regarding the artistic direction. We wanted to go further and adopt our brush-like style, made of brush strokes, with a very soft side to the paint and drawing on the concept art and spirit of traditional Japanese painting, even if we went beyond this side.
Why this choice to do the artistic direction in color, very colorful? the very recent Head to Yomi for example, preferring black and white to stick with the traditional aesthetic of samurai movies.
As far as we're concerned, we're clearly closer to an anime and not a samurai movie. We wanted to take that side, more colorful, more fantastic, which we think looks really good and because we found it more selling and eye-catching.
A beautiful game isn't necessarily a good game, but a good game if it's not beautiful, it won't work. That is why it was important for us to accentuate this artistic touch.
And on the gameplay side, what games did you get your inspiration from?
The most obvious and highly visible inspiration is: Nidhogg – a fencing game where you go into the other's base and kill yourself in one shot. But our inspirations were also A hittraditional 2D fighting games like street fighterbecause we wanted a basic fighting game, accessible to everyone, but simpler and not complicated.
We can also quote dive kickthat wants to be accessible and simple, smash – complicated but accessible, and the couch party games and the couch fighting gamesif Tower Autumn Ascension† samurai gunn or Stick Fight: the game†
This desire for a highly accessible game translates into gameplay based on just three keys, with no possible combo. This choice is in stark contrast to the classic mechanics of 1v1 fighting games. Has this bias always been at the heart of the project?
In fact, the original idea was based on just two keys! Of course it soon seemed interesting to enrich everything with a touch of punch, but without a combo; we wanted something simple. By the way, we have been underlined at this point that we have few attacks while using samurai; however, we are not in a fighting game where you have to match the keys correctly to place combos at the right time.
We instead use the stamina, which regenerates over time. You should therefore think carefully about your actions so as not to run out of stamina and get killed by the opponent. The arenas are very large, so the confrontation is interrupted by pauses, retreats to restore stamina, which invigorates the fights like a solemn duel of samurai.
Can you let us know how many characters the selection will contain?
Secure ; there will be five, and they are all already here!
Will these characters have very pronounced quirks, such as visuals, stats, or even a specific move?
These five characters are not much different from each other, and it is a choice, always of accessibility. Once you understand how it works, you can easily use any sign. There are variations, with different timing or range, but they play the same way.
There is a story mode, which contrasts with the 1v1 side where you can meet a player or an AI. Other game modes – arcade mode, training mode for example – are in preparation?
A training mode could be interesting and easy to do, but no other game mode is planned for now. We had thought of mini-games for the story mode, maybe one or two will be integrated elsewhere, but the game isn't designed for anything other than dueling at this stage of development of the game.
We prefer to focus on what works and stay minimalist in the important game that has yet to be written.
The story mode must be a maximum of 2 hours of play, in order to provide solo content for the players and thus have some narration. This allows you to get attached to the characters and learn more about the universe.
It's also a chance for us to make the most of the DA by moving around the landscape, organizing multiple enemy situations, boss fights, etc. It's not the heart of the game, but it's still a fun one element!
The future prospects of the project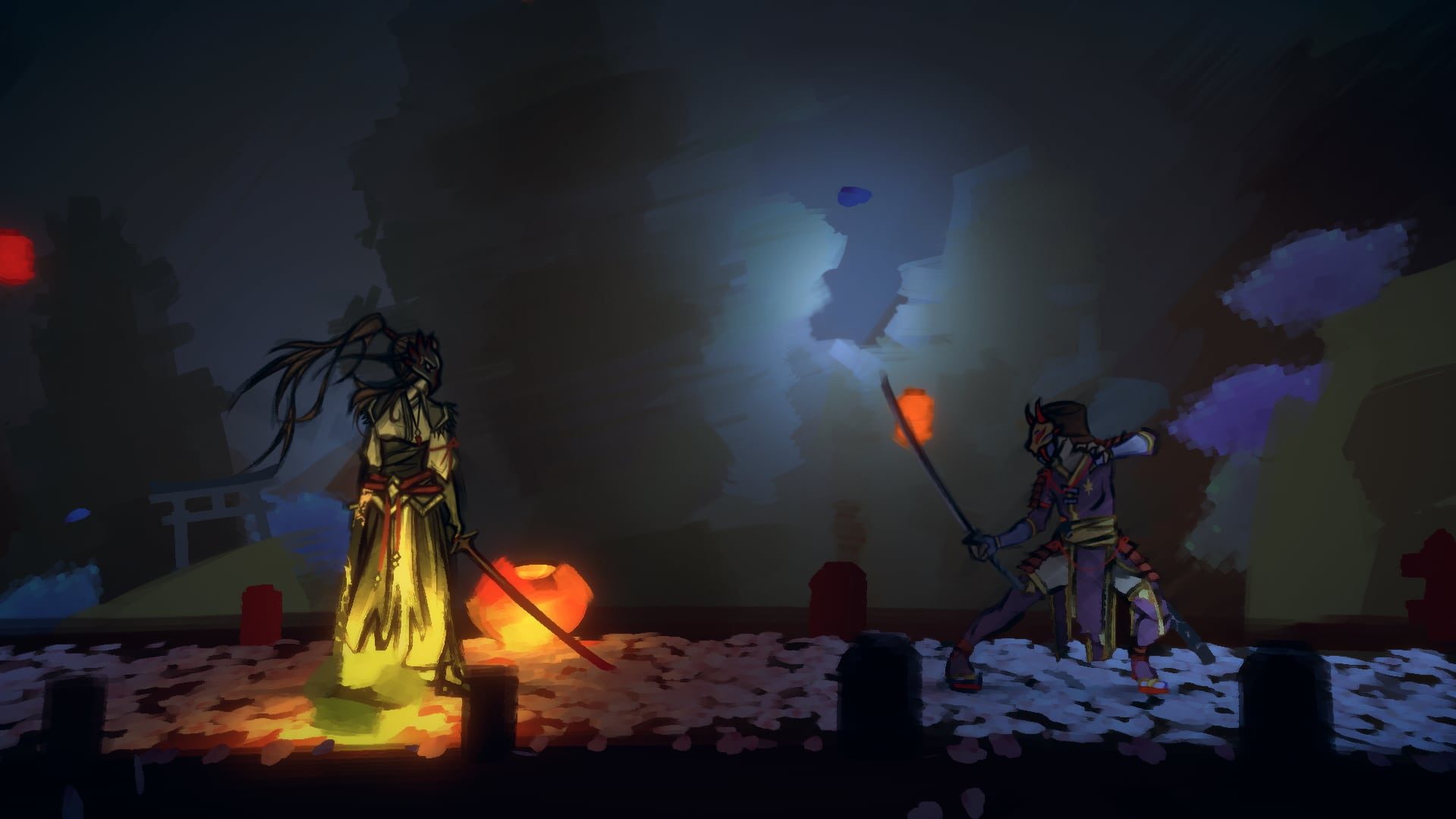 Have you planned more advanced audio dubbing, especially Japanese?
We would like to! If this is not possible, it becomes dynamic text. The first wish is an English dubbing, for obvious reasons to internationalize the game. A Japanese dubbing would of course fit the game perfectly, but it's much more complicated to achieve.
Where are you on the development side of the game; when can we expect the release?
The game has progressed quite a bit so far. Duel mode is over and working. We have yet to finish the story mode, which we are actively working on. The characters are all there already, the online mode works, but is very rudimentary and very buggy. A lot still needs to be done.
And will this release only be on PC?
Yes quite. So far, only a PC release is planned. We're thinking about a possible Switch port, which would be a perfect fit for the type of game and what the community has been asking the most for, but nothing is being done about it at the moment. Any platform is good to take.
Before you go, do you have an anecdote that occurred during development to tell us?
Nothing remarkable… although we can mention something funny that happened during the playtests. The playtesters had pointed out that it was strange to see that as they increased the number of rounds to be won, the sound became saturated; we didn't know why.
And in fact we had to use copy-paste of sound sliders to make the sleeve slider, and we forgot to remove the component that controls the volume. The voices of the characters were like nothing, it was really bullshit and we had a good laugh then.
One last word to share with ActuGaming readers?
Wishlist for the game on Steam, it's super important to us. Most of all, we hope you enjoy the game. If you find fighting games complicated, with sclash, you will see that this is not the case; it's a game to play with friends on the couch, a quick game to play in 5 min, without loading, a fun way to decide for example who does the dishes [rires]†
We thank Bastien Bernand for his time and the answers given. sclash will be available soon on PC and a demo is already available on Steam.