"One man's trash is another man's treasure". This old English saying echoes the Museum of Everyday Life. Installed in an old barn in the northern part of the state of Vermont, he is interested in the hidden aesthetics of small objects (safety pins, old matchboxes, rusty keys, scissors). Far from being static, this place moves as, among other things, it organizes exhibitions that relate to the dynamics of our daily lives. On its website, it bills itself as "an ongoing cutting-edge museum experience based in Glover, Vermont. Our mission is an epic, slow-motion classification of the everyday, a detailed, theatrical expression full of gratitude and love for the small, unglamorous life in all its forms . Here we celebrate the banality and mysterious joy present in the innocent yet much-loved objects we have access to every day. In pursuit of this mission, we ask ourselves certain questions: "How would it be to imagine a museum filled, not with rare objects, but with perfectly familiar pieces? "How would it be to challenge traditional museums? and "How would it be possible to create assemblages of elements that inaugurate important and living connections between objects and people?" »
Ordinary objects become extraordinary in this museum of everyday life. The photo is taken from their Facebook page
Beyond the unusual
At least that's what the creator of this museum, Claire Dolan, managed to do, which would take it further than just an unusual stopover. This Vermont-based nurse and puppeteer founded this museum dedicated to the mundane in 2011 after cleaning out her barn and realizing she had a large number of gadgets whose scale deserved to be highlighted far from any nostalgia. She thus gave them three dimensions. The first is developed in the Department of Philosophy, resulting in the production and publication of theoretical writings about people and their relationship to objects and conservation methods. The other flourished in the Performance Society of the Museum of Daily Life, which put on puppet shows and other stage performances, with a permanent interest in questioning everyday life through objects. Finally, Claire Dolan is interested in developing exhibitions that make the theory of our daily lives more tangible and concrete. "Our special exhibits have explored common objects such as the pencil, safety pin, mirror, toothbrush, match, locks, keys and scissors," she explains on her site. These exhibitions examine the objects in depth, tracing their origins and also examining their lives throughout history in relation to all kinds of human experience. These special exhibitions call for contributions from many people from different backgrounds (students, neighbors, collectors, artists) whose contributions enrich the event.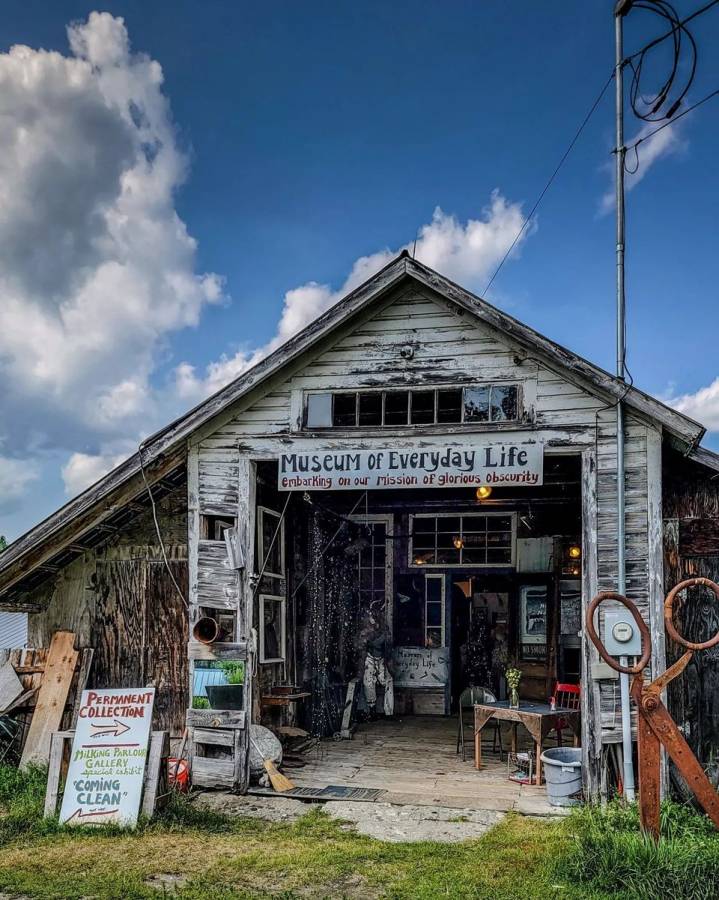 The entrance to the museum. The photo is taken from their Facebook page
From art to art
At the moment, and under the title Becoming Clean, the everyday museum's picture rails are developing the theme of cleanliness. As soon as you enter this unusual space, the visitor can hear the sound of running water facing an old filled bathtub, surrounded by everything necessary for a good bath: sponges, exfoliating objects, various soaps and cleaning agents. , old porcelain faucet handles, bidets, basins for soaking feet, rubber ducks for children and vintage posters illustrating how to wash hands properly. A pamphlet explains the installation: "From bourgeois enamel bathtubs to desert nomads' sand baths, from baptisms to public baths, humanity has developed an enormous variety of strategies in response to the persistent impulse to 'cleanse' itself. Is the state of being dirty eternal? How do we experience bodily impurity? What daily habits and rituals make us feel liberated?
What other types of non-bodily impurities does this washing involve? Lady Macbeth's endless hand washing begs the question: can we really get clean? »
Note that the English term "Becoming clean" is often used figuratively, meaning "getting rid of an addiction".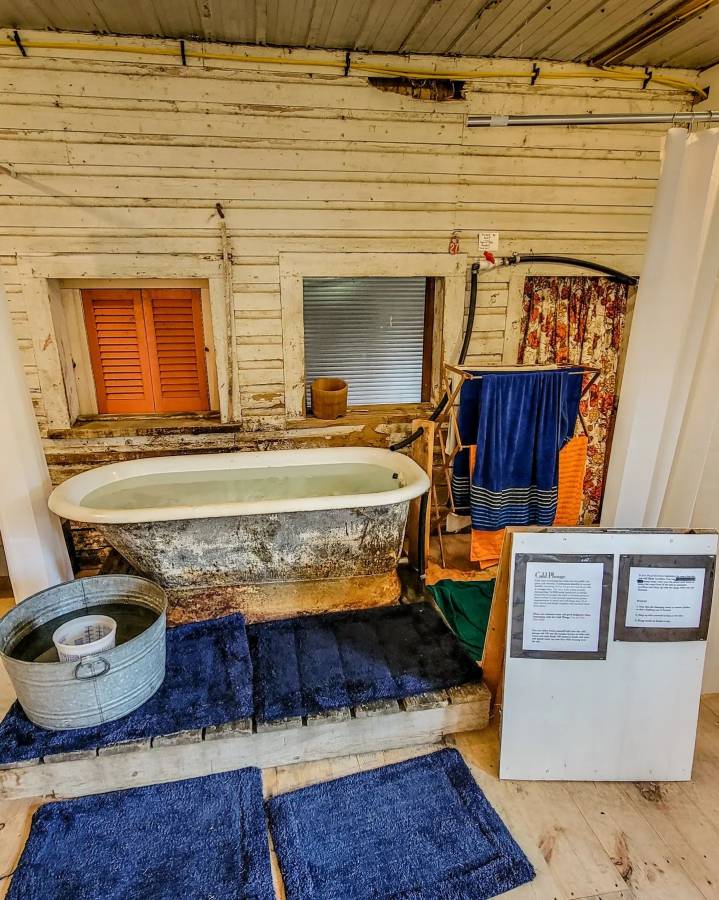 A preview of the current exhibition under the title "Becoming Clean". The photo is taken from their Facebook page.
Orhan Pamuk's Museum of Innocence
From what are called the small things in life, Claire Dolan has designed large, carefully crafted thematic installations that push the boundaries of Arsty to the point of art. His museum also partners with the "Banners and Cranks" festival, an annual traveling event featuring songs and eccentric performances. The other special thing about this place is that it works as a self-service with full trust for visitors. When they arrive, they will find no one to welcome them. They are simply asked to turn on the light, come in and spend as much time in these places as they wish. A small sign reminds them to turn off the lights before leaving. In this ordinary museum, everything becomes extraordinary. Which is reminiscent of the magnificent Museum of Innocence in Istanbul. The work of the Turkish writer Orhan Pamuk (Nobel Prize in Literature, 2016), who gathers in a house full of poetry and mystery more than a thousand everyday objects that are present in his eponymous novel.
"One man's trash is another man's treasure". This old English saying echoes the Museum of Everyday Life. Installed in an old barn in the northern part of the state of Vermont, he is interested in the hidden aesthetics of small objects (safety pins, old boxes…