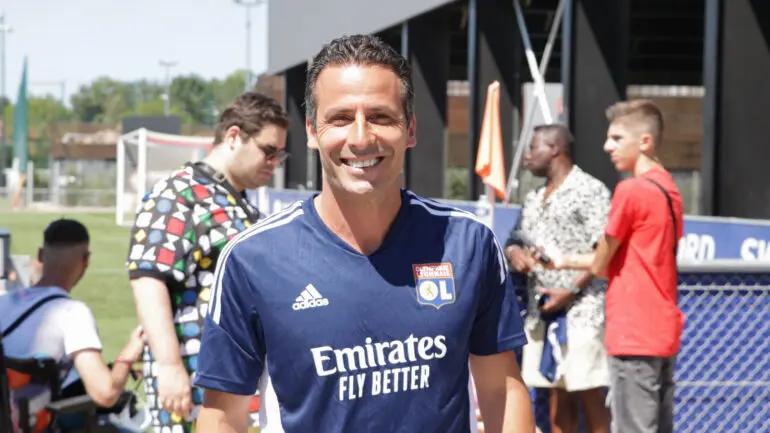 Ludovic Giuly, Olympic attack coach / (Credit: Romane Thevenot)
For a month, he has been almost one of the attractions of this summer recovery in Lyon. Having returned to the Olympics as assistant to Peter Bosz, Ludovic Giuly is already like a fish in water. But the former winger is as smiley as he demanded, as the sessions open to the public have shown.
Olympique-et-Lyonnais: You have been back at the Olympics for a month, how is your return going?
Ludovic Guily: It's going well, it's a lot of work, but it's interesting. I'm happy to be back to basics. There are people who are interested in this team and of course it is always a pleasure for the players and us coaches to be supported, to see all these kids who follow the club.
The two practice sessions open to the public have made you this summer's "star", especially with this hitting session. Did you expect this welcome?
Star is strong, but at certain generations I inevitably felt the spirits. I won't deny my career, I had a great career in France and in Europe, so fathers obviously know a bit more than the younger ones. I didn't expect such a welcome, it's always a pleasure. Then I went to the other side. When there was an opportunity to do the drill because a player was missing, I was the first to do it. On this one I didn't lose too many of my qualities (laughs).
There are examples of a coach still being a player in their head, is that your business?
I'm not a player because you can't be a player and coach. It's one or the other. Afterwards, football speaks to me, I don't have square feet yet, so it's quite natural. But you really have to cut through what we have experienced in our careers in order to move forward in our coaching and have a new vision.
---
Giuly: "There are times when you can laugh, others not"
---
How did the contact between the club and you go?
Vincent (Ponsot) and Bruno (Cheyrou) called me because Hendrie Krüzen was leaving. They were looking for someone, and for my part, I had also been looking for a long time to find a team to work with. Finally, not included in my plans this summer, I left for another family project. When they called me, I jumped at the chance and canceled everything to return to Lyon. It's a surprise becauseBEER, this is the club where I started. They needed someone for the forwards and my experience that I had in my career in a dressing room.
Some of your friends at the club weren't even aware of your return. Was the deal completed quickly?
I made a decision in 48 hours. I was in Dubai settling down and I put everything back in the boxes to return to Lyon. If it hadn't been for Lyon, I would have stopped looking. Barcelona was also an option, but otherwise I would have said no.
One month after joining, what is your role in the staff and with the players?
Integration happens naturally because I am an open person. I know the players, I know how they work. On this I have no problem, I was very well integrated by the staff. It is very important for me to feel important in this group of coaches. What Peter (Bosz) has done for me is already a sign of respect and trust. My role is to analyze the strikers, but not only that when you are a coach, you analyze a bit of everything. We are a team with Rob (lot), Claudio (cacapa) and Rémy (Vercoutre) to analyze all this and discuss everything we see in relation to our lines. Facilitate training, as I currently do.
In addition, we feel that you are very involved in training, without hesitation to push the players, especially on the toros.
To me, bullfighting is exercise, not fun. If we manage to be purely technical, not lose the ball and have the goal of turning the two in the middle, it's a real bull. You can take it as fun, but it's an exercise, and that's how I see it. I lived it in a big club (FC Barcelona) where the toro is part of the DNA. A player must be focused from the first minute to the end of the two-hour practice. It is the foundation of a player.
---
Giuly: "I believe in beautiful stories and destiny"
---
So there is a jovial Giuly and a demanding Giuly?
It's natural for me. I am there to help the players and I believe that if we are respectful and hardworking we can achieve great things. Yes, I laugh because it is my nature and I think we can work in a good mood, but we must not forget the essentials of work. You must be serious. There are exercises where you can laugh, others not.
Has the internship in the Netherlands helped your integration and your role?
We were together 24/7 so that helps. I went to have a little chat with everyone. I introduce myself, I try to see how the players are, if they are married, if they have children. I think it is important to know your environment in order to succeed.
Finally, as a player, you didn't win a title with the Olympics, is that a regret?
It's not over, but of course it's a regret. It is the only club with which I have not won anything except Gambardella in 1994. I lost the Coupe de la Ligue final against Metz so i'm disappointed about that but it made me grow because i hated this defeat to win titles. I am someone who likes good stories and destiny. If I came back, it's not for nothing.